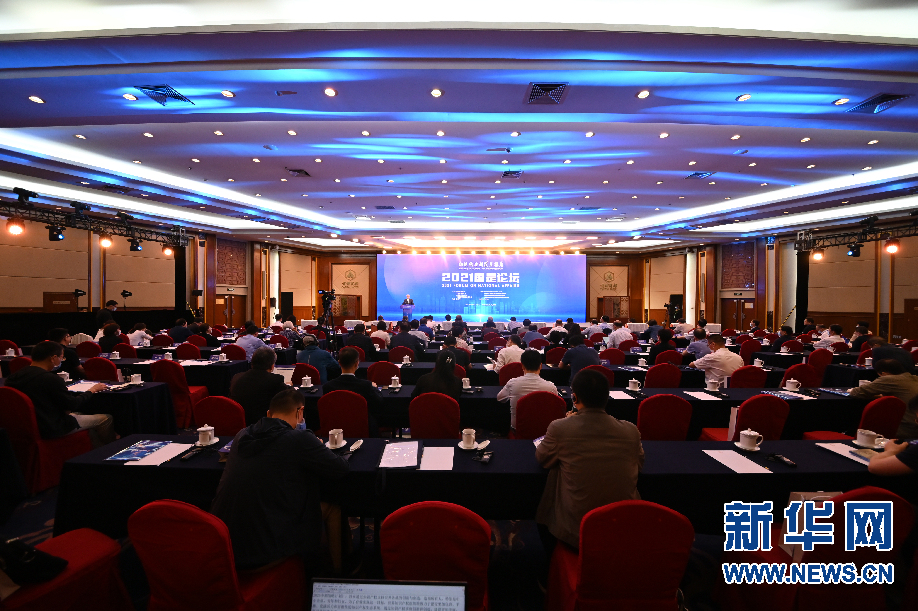 Forum on National Affairs held in Beijing on September 23 and 24
The 2021 Forum on National Affairs was held in Beijing on September 23 and 24, hosted by the Counsellors' Office of the State Council (COSC), Ministry of Industry and Information Technology (MIIT), China Association for Science and Technology, and China Council for the Promotion of International Trade (CCPIT), and organized by Xinhuanet. At the forum which was themed "accelerating the shaping of a new development paradigm", Vice Chairman of the 13th CPPCC National Committee Gu Shengzu made a keynote speech. Deputy Secretary General of the State Council and Chairman of the COSC Gao Yu, MIIT Vice Minister Wang Zhijun, Deputy Party Secretary of China Association for Science and Technology Xu Yanhao, and CCPIT Chairperson Gao Yan attended and addressed the opening session, which was moderated by COSC Vice Chairman Zhao Bing.
In his speech "giving more opportunities and a bigger stage to private businesses in the new development paradigm", Gu Shengzhu described the new development paradigm featuring two circulations is a momentous strategy in the 14th Five Year Plan. China, as he said, must run its own affairs well, countering the uncertainties in international circulation through certainty in domestic circulation. The country must make several shifts: from reliance on export and passive integration into the global economy to active embrace of economic globalization driven by domestic demand, from emphasis on growth speed to coordinated development and security, and from dependence on cheap labor to talents and quality human resources. China must pursue an olive-shaped wealth distribution structure, and achieve common prosperity by letting those who get rich first help those who are behind. The new development paradigm underpinned by the two circulations will offer a big stage and more opportunities for private businesses. Small and micro businesses are the backbone of an economy of the people, by the people and for the people and a staunch market force for common prosperity. Private businesses must move from the obsession with bigger sizes to a focus on what they are best at. To this end, they must stick to their core business, pursue differentiated, not homogeneous development, stay focused on their specialty, not blind expansion, set their eyes on the long term, not immediate, quick results, and adopt a scientific approach to upgrade and move up the value chain. As China fosters a new development paradigm, the government must support private businesses, using market and law-based means to create a favorable business environment by reducing micro interventions, anchoring market expectations by avoiding abrupt policy shifts and hard landing, lessening tax burdens on businesses, and achieving stability and security across economy and society.
Gao Yu said in his speech that accelerating the shaping of a new development paradigm is a major strategic decision made by the CPC Central Committee with Comrade Xi Jinping at its core when the timeframes of the two centenary goals overlap and in light of the new development stage, new historical tasks and new circumstances. The international situation is getting more complex and China is faced with a heavy task in reform and development. This edition of Forum on National Affairs is to pool wisdom and bring together the best minds to confront challenges and offer practical advice on accelerating the shaping of a new development paradigm. The forum will be important for getting the 14th Five Year Plan off to a good start, for achieving this year's development goals, and for creating a brighter future in a way that it makes new attempts, showcases new samples, makes new pursuits, reports new achievements, exchanges new experiences, and provides new advice.
Wang Zhijun suggests that priority efforts be made on four fronts to accelerate the development of industries and information technologies. First, maintain a stable share of manufacturing and build a modern industrial system. Second, lay a solid foundation for advanced industries and modernize the industrial chain to keep the industrial and supply chains stable and competitive. Third, speed up digitalization and raise the efficiency of economic circulation. Fourth, open up wider to integrate more deeply into global industrial and supply chains.
Xu Yanhao said that the important mission of scientists is to make ground-making breakthroughs in cutting-edge technologies, win the battle in key, core technologies, and achieve independence in high technologies. The China Association for Science and Technology will act as a bridge to unite scientists in implementing the decision of the CPC Central Committee to pursue independence in high technologies. The association will leverage its strengths to pool wisdom to advise the government and the Party on science-based decision making.
Gao Yan said that the new development paradigm is not a closed domestic circulation, but an open combination of domestic and international circulations. Foreign trade is a strong pillar of domestic circulation and an integral part of international circulation. It is the key link connecting domestic and international circulations and has an important role to play in shaping the new development paradigm. As the largest trading nation, China must maintain growth, boost innovation, keep circulations smooth, expand cooperation, and maintain foreign trade within a proper range. This will contribute to China's steady growth and world economic recovery.
As the global pandemic evolves, how to secure a steady recovery of the global economy is a focus of the forum. In their statements, heads of international organizations spoke highly of China's 14th Five Year Plan and applauded China's efforts to promote global win-win cooperation. Deputy Director General of the World Intellectual Property Organization Wang Binying said that China's 14th Five Year Plan will open a new phase for the growth of a more robust ecosystem that incentivizes innovation and creativity in China's increasingly innovation-driven and digital-driven economy. UN Resident Coordinator Siddharth Chatterjee said that the rural revitalization on which China is embarking is consistent with SDGs and the principle of "Leave No One Behind" in the UN Decade of Action, and highlights the promise of building an inclusive society and caring for the most vulnerable. IMF First Deputy Managing Director Geoffrey Okamoto described China as a major contributor to multilateral trade through its support to WTO reform and applauded China's leadership in the response to climate change, which has promoted global green recovery. UNIDO Executive Director Zou Ciyong said that the new development paradigm proposed in China's 14th Five Year Plan is a positive step towards more inclusive and sustainable growth, which can be a source of inspiration for other countries. World Bank Country Director for China Martin Raiser believed that as China has successfully contained COVID and has adequate space for macro-economic policy, it can help to take the world towards a greener and more inclusive future.
Counsellor of the State Council Wang Zhaoxing pointed out in his speech that China's financial reform and opening up face new opportunities under new circumstances and must meet the needs of the real economy. China must reform its financial system, enhance the governance of the financial institutions, speed up the digitalization of the financial industry, build a highly efficient financial infrastructure, open up the financial sector in two ways, and ensure financial reform and opening up in a market and law-based way and consistent with international rules.
The forum featured dialogues on sci-tech innovation, sound interaction between supply and demand, balanced urban-rural development, and high-standard opening up. Officials from the various departments under the State Council, counsellors of the State Council, academics, and business delegates attended the forum online and offline. They offered suggestions on making breakthroughs in core technologies and promoting large-scale commercialization of new technologies; improving the supply structure and fostering a complete domestic demand system; expanding market access and ensuring high development under the Belt and Road Initiative. They also contributed insights on the shaping of a new development paradigm.
The forum has the main venue in Beijing with overflow rooms in the counsellors' offices in different provinces and municipalities. The COSC called for papers on the topics of the forum and received 134 contributions from 152 counsellors.